The whole reason for writing this blog article is to hopefully help a few people that are looking at buying their sim card inside of the airport before getting onto the street. After being on a long flight I know that most of us are ready to connect online and let everyone know that we arrived safe and sound to our destination. Also, it's a comfortable feeling to be able to look up answers to questions you might have when trying to get to your accommodation.
It didn't take very long when doing research on Sim Cards to see that so many people have been taken advantage of when buying a sim card in Tan Son Nhat airport. The biggest scam it seems is that sim cards that work for just a short amount of time and then are shut down after 7-8 hours.
This is why my piece of advice for getting a sim card is to ignore all of the other Kiosks except the official SASCO Travel Kiosks. This companies are the only recommendations I am going to make in this article. If there is another kiosk offering a sim card for a few dollars less, I personally wouldn't even consider it. The headache of getting a sim card that stops working way before its supposed to isn't worth it.
If you are like myself and want to avoid any type of headache after a long flight to a new place you can order your simcard through http://www.sascotravel.com/en/ , this SASCO Travel still a popular and reliable service provider in vietnam.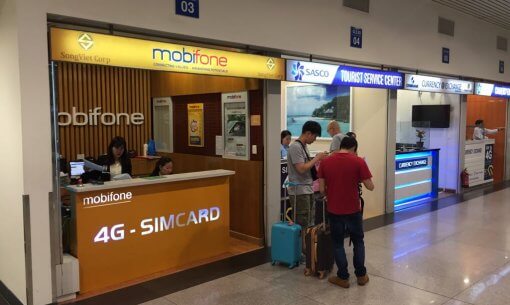 SASCO Travel Kiosk Ton Son Nhat Airport
Where are the SASCO Travel Sim Card Kiosks in Tan Son Nhat Airport?
This Kiosks are located after you get out of customs. That means you'll have to wait until you go through immigration in order to get to the correct Kiosks. In our research we found that the biggest complaints about being ripped off happened at the kiosks before immigration so we highly recommend you avoid these options.
The kiosks is located at the exit of the terminal after baggage claim. You'll be able to see that their brand name is prominently shown on its Kiosk.
Coverage:
Viettel has the biggest 4G coverage. If you're going to be travelling all over Vietnam, this is your best choice
VinaPhone also has great coverage. Unless you plan to go to some really remote areas in the north, you should be good
Mobifone has the smallest coverage of the three. It's especially weak in the northern part of the country. But if you only plan to stay in the major cities, this will work totally fine